From Man Page:
DESCRIPTION
ranger is a console file manager with VI key bindings. It provides a minimalistic and nice curses interface with a view on the directory hierarchy. The secondary task of ranger is to figure out which program you want to use to open your files with.

This manual mainly contains information on the usage of ranger. Refer to the README for install instructions and to doc/HACKING for development specific information. For configuration, see the files in ranger/config. They are usually installed to /etc/ranger/config and can be obtained with ranger's --copy-config option.

Inside ranger, you can press 1? for a list of key bindings, 2? for a list of commands and 3? for a list of settings.
Project page: https://ranger.nongnu.org/. Has pretty good documentation
Available on Debian, Arch, Probably others, git and mailing list available as well.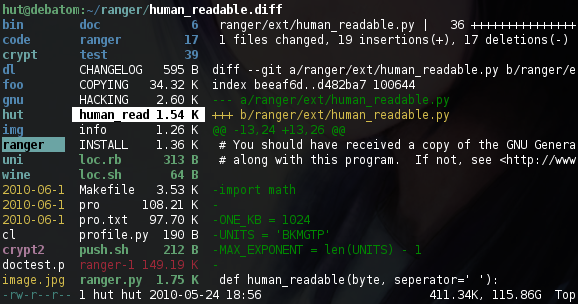 Features
3-pane view:

Previous -> current -> next
When current is a file, uses file magic and other programs to preview the file
optional dependencies for previews:

img2txt from caca-utils for ASCII-art
highlight for syntax highlights
atool for archives
lynx/w3m/elinks for html
pdftotext for pdfs
transmission-show for bittorrent information
mediainfo or exiftool for mediafile info

Color coded, with three themes to choose from
One more over to the right opens the file from other programs
Configuration
located in ~/.config/ranger directory
rc.conf = keybindings and settings
commands.py = command-mode items
rifle.conf = file launcher options, which let you make custom file opener commands
scope.sh = custom file preview scripts, like mdview
Navigation
up, down, left, right, or h,j,k,l
gg top G Bottom
E edit
pageup/down
Command commands
spacebar to mark or :mark for pattern
dd, yy, pp
:touch, :mkdir, :grep
del
rename and bulkrename (change from ranger.container.file import File to .fsobject.)
zh - toggle hidden
gn - new tab, gt or gT to navigate tabs
/ search vile
V visual mode
:open_with
1? = list key bindings
2? list commands
3? list settings
? main help